Products
Wireless Video Door Phone
Wireless Video Door Phone in Nigeria by Hiphen Solutions Services Ltd. We are dedicated to providing customers with top-notch performance VIDEO DOOR PHONES.
Hiphen Solutions always focuses on customers satisfaction and puts extra effort into product innovation and improving service. Protect your family, your home and your assets when you invest in Wireless Video Door Phone systems.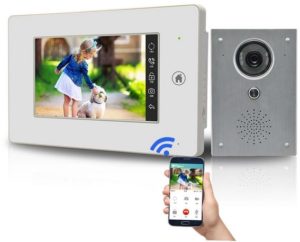 Video Door Phones find uses at homes and at places where security threat is high. They are an upgraded version of simple door phones or intercoms that were useful only for audio communication. Video door phones are fitted with cameras to let you see the face of the visitors and help you decide whether they should be allowed to enter the gates.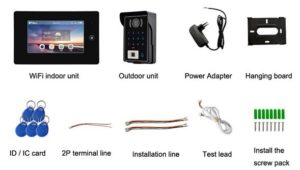 Video door phone are installed at the entrance of your home and help you speak to the visiting persons without coming near to them. Your home is thus safe from unwanted people and probably, their malicious intention. Some video door phone systems are equipped with features that allow you to transmit signals to the security systems for quick action in case of emergency.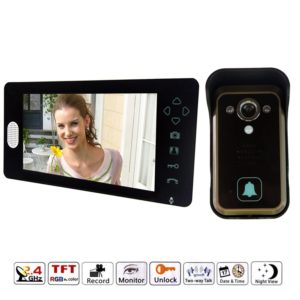 Why should you choose a Video Door Phone Intercom System?
1.It is a door phone which can show you what is going on outside doors on a clearly 7″ full color screen of which the brightness can be adjusted.
2.It can function as a monitor. Press the button of Response/Monitoring, the screen will show you the picture outside doors, which makes you kown the outside world staying in the house.
3.The easy installation also is one of its advantages, which most customers care about. The mounted design of this item makes it very easy to be installed
4.Video Door Phone Intercom Systems can increase your overall safety at home or at your business by allowing you to see who is at the door before you decide to open it or not open it.
5.A Video Door Phone Intercom System works with camera units mounted outside the entrance door (or designated area) and display monitors installed inside your home (or business) showing what the camera is pointing at. Typically when someone presses the call button on the outside video intercom unit or rings the door bell it activates the camera and alerts the indoor monitor. You can then talk to the person as you look at their image.
6.Safely Identify Visitors: Enjoy the freedom of monitoring your entrance from the safety of inside your home. Carry on conversations without ever having to open the door to strangers. If you hear a suspicious noise or are curious to see what is happening outside, you can simply press the view button and instantly monitor your entranceway.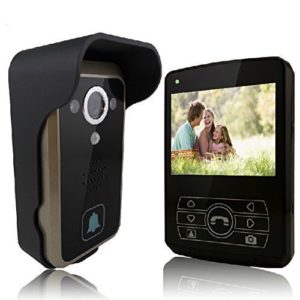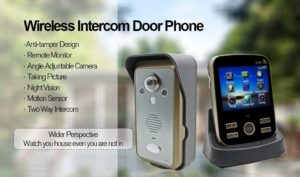 TAGS:
video door phone price in nigeria
wireless video door phone 2.4ghz digital
cp plus wireless video door phone
panasonic wireless video door phone
wireless intercom price in nigeria
ring doorbell 2
video doorbell comparison
video doorbell no subscription
ring video doorbell 2