Products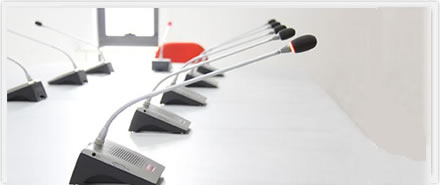 Wireless Delegate Conferencing System
Wireless Delegate Conferencing System, Digital Conference Microphone in Nigeria by HIPHEN SOLUTIONS. Gooseneck Microphone system for Assembly, Board Room
At Hiphen Solutions Services Ltd., we supply and install Wireless Delegate Conferencing System equipment from all of the major conference system manufacturers. We supply and install all types of systems no matter how large or small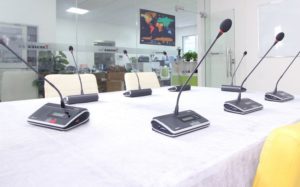 Standard and Digital Designs
Our discussion products feature multiple microphones that link to a single controller.
Participants simply press a button and speak into the microphone to be heard throughout the room.
As a meeting leader, you can stay in control using system features like a red ring around the microphones to identify speakers and an override function that can help you moderate the meeting.
That way, no sound gets lost, and everyone gets their turn.
WE CAN INSTALL IN ANYWHERE IN NIGERIA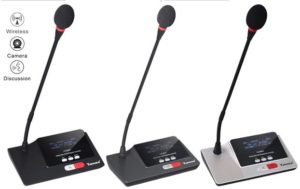 Features:
The first digital infrared wireless conference system in the world
•Original dirATC — digital infrared Audio Transmitting and Control technologies
•Wireless system, easy to set up and to remove
•Perfect sound quality as CD from the microphone
•Microphone sensitivity and EQ can be adjusted individually
•Isolated audio recording function for simultaneous interpretation (1+3 channels)
•Infrared transmission technology guarantees privacy
•Any quantity of infrared wireless conference systems can be installed within a building
•No worries about eavesdropping and radio interference, no radio radiation
•Full functions (discussion, voting and 1+3 CHs interpretation)
•No radio frequency license needed for operating an infrared system all over the world
•Adopts 2~8 MHz transmission frequency, undisturbed by HF driven light sources
•Excellent immunity to RF interference from mobile phones and RF devices
•Vertical emission angle of conference unit selectable via LCD menu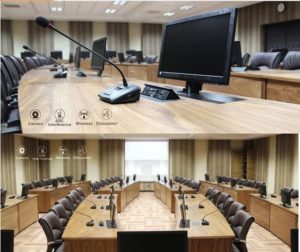 Congress Main Controller Units
Features:
Especially designed for high-end meetings, such as Summits, congresses, conventions, parliaments and city councils
• Based on independent intellectual property mMediaCongress™ platform, never subject to viral infection, hacker-proof, safe and reliable
• Paperless Multi-media Congress Terminal – equipped with a 7″/10″ high-resolution LCD touch panel and an integrated 3 million pixel camera, realizes interactive conference control functions (speech, voting, SIS), paperless meetings, video conversation, various video service and conference service, etc
• Based on originated GMC-STREAM Gigabit Multi-media Congress Stream technology, all audio and video signals are transmitted via a CAT6 Gigabit network cable. GMC-STREAM fully guarantees the real-time performance and stability of the important data stream of the meeting, such as audio, voting information, and control information
• Based on ingenious CongressMatrix™ technology, integrated n×8 audio matrix processor to realize 8 channels group output function
Invisible microphone features with microphone-array technology
Increased reliability with "Closed Loop – Daisy Chain" connection topology, supports "PnP"
48 kHz audio sampling, 64 audio channels, each with a 30 Hz-20 kHz frequency response for perfect sound quality
•Low power consumption design
Supports CobraNet protocol to connect to peripheral digital devices without losing any sound quality
Equipped with optical fiber interface to combine two widely separated conference rooms to form one unique coherent system
Dual connection backup via optical fiber and CAT5 cable between congress main unit and extension main unit
•System power controllable by central control system
•Supports combining and separating conference rooms
Connectable to multi channel audio input or output devices for versatile expansion of the system
Connection facility for additional condenser or dynamic microphones, expanding user's application spectrum
Integrated USB interfaces in the congress main unit for system upgrading and saving system parameters. Convenient for system maintenance
Standard and Digital Designs
At Hiphen Solutions Services Ltd., we supply and install equipment from all of the major conference system manufacturers. We supply and install all types of systems no matter how large or small.
Our systems are designed to expand to meet your delegate numbers and conferencing requirements, and include options for remote delegate stations (via PC or telephone), language distribution (via interpreters), external source inputs, automatic camera tracking and public address or record function outputs. It is designed to have included a variety of applications, including government, education, hospitality and corporate environments.
We offer the most extensive range of group Wireless Conferencing and Public Address systems in a variety of standard and digital designs to handle the needs of small to large business. Our professional goals and corporate personality have blended so well that it is regarded as the best in communication systems.
Features:
Wireless Conference System
•Quick set up and removal, free from troubles resulting from cable breaks and cable deteriorations
•Easy to setup a system for usage limited in time
•No impact on furniture, interior equipment or building structure
Full Functions
•Discussion
•Vote (5 keys)
•Simultaneous interpretation (1+3 channels)
•Isolated audio recording function for simultaneous interpretation (1+3 channels)
•Audio video tracking
•Compatible with digital infrared language distribution system
•Powerful application software
Infrared Transmission Technology •Conference privacy is guaranteed as infrared signals do not pass through opaque walls or ceilings•Wherever there is a partition between conference rooms, there is no interference

•Any quantity of infrared wireless conference systems can be installed within a building

•The infrared communication frees users from worries about eavesdropping and radio interference inherent to radio wave-based wireless communications

•No radio radiation

•No radio frequency license needed for operating an infrared system all over the world

•Adopts 2~8 MHz transmission frequency, undisturbed by HF driven light sources and mobile phones

•Works without errors, even in bright sunlight

Digital Infrared Audio Technology

igital infrared audio processing and transmitting technologies ensure superb sound quality:

1. Freq. Response: 20 Hz ~ 20 kHz

2. S/N: >80 dBA

3. THD: <0.05%
Accessories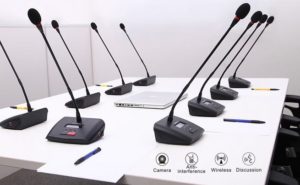 Tags:
wireless delegate conferencing system
wireless conference system
wireless conference microphone system
bosch wireless conference system
audio conference system
wireless tabletop microphone systems
wireless video conference system
televic digital conference system
conference system in shipping
wireless delegate conferencing system price
wireless delegate conferencing system Suppliers