Products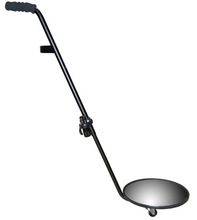 Under Vehicle Search Mirror
Under Vehicle Search Mirror
Under Vehicle Search Mirror Product Specification and Features
•Capability to conduct rapid and effective visual searches of vehicles
•Stainless steel handles for transportation
•Protection of fixed installations and other potential targets
•Searches for contraband material
•With 30 x 30cm convex acrylic mirror
•With fluorescent lighting mounted on casters
•For searching the underside of vehicles
•Mirror offers wide field of view
•Hinged telescopic handle can be lowered to ground level for maximum penetration
•Illumination is provided by an energy efficient 6W fluorescent lamp
•Powered by rechargeable Lithium battery pack
•Supports up to six hours continuous lighting
•Telescopic rods with T-handle can be operated more conveniently
•Composed by one hand with fold mode
•Foldable and easy to carry anywhere
They simplify sweep searches underneath seats, counters, and other storage spaces. This becomes a necessity when searching for possible weapons, explosives, narcotics or other contraband. Easily safeguard stadiums, churches, auditoriums, airports, planes, movie theaters, offices, nightclubs, train stations and restaurants. The handy ergonomic mirror is easy to hold and use effectively. It hangs from your hand at the perfect angle, counterbalanced for long term use, with little or no fatigue. Protect the entrances to all secured areas by using See-All portable inspection mirrors. It is imperative to check under vehicles going into secured areas, such as military posts and government buildings. Whether they are used with a bomb squad, a drug search unit, or at a customs checkpoint, our mirrors do the job to help reveal contraband.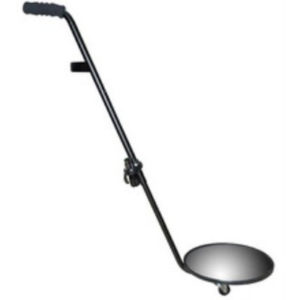 【Non-slip and Convenience】The anti slip type 1.1 meter long telescopic pull rod can penetrate the vehicle and articles to the maximum extent. The portable cloth bag can be used to fold and fix the drawbar, and the latter can lift it away. It is made of high quality aluminum structure and high strength processing. The surface is dust-free workshop baking outdoor paint treatment, long-term use does not fade, no smell, harmless to the human body.

【Extensive Use】It is a powerful tool for inspecting dead-corner areas which can not be observed directly when people are investigating the scene. For example, the bottom of the car, shaft, roof, underground, table bottom, lamp pool, ceiling, chandelier, etc. The mirror angle can be flexibly adjusted according to needs.

【Safe and Durable】Square 20 *20 cm high strength anti-fragmentation convex mirror, convex double magnification effect, is the same size of ordinary glass mirror 1/2 weight, with a certain degree of toughness, not easy to break, safe and durable, brightness and glass mirror. The paint iron bottom clamp with all round mirror can effectively prevent collision and damage to the mirror.

【Economically portable】High brightness LED flashlight, close to the search mirror installation, to ensure that in the dark environment can also be used normally, greatly improving the lighting efficiency.

【Simple and clear】Unique shaft and locking device to ensure flexible rotation and smooth operation of the telescopic arm, after use can be completely retracted into the handle, easy to carry and store.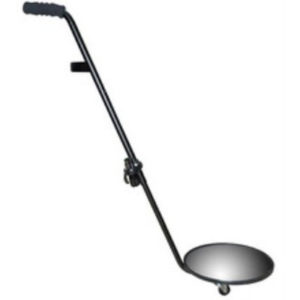 TAG:
under vehicle security checking mirror
inspection mirror
vehicle checking mirror price
under vehicle mirror price
under vehicle inspection mirror in Nigeria