Products
Temperature Hand Sanitizer System
Temperature Hand Sanitizer System in Nigeria – Floor Standing All-in-One Body Thermometer and Hand Disinfectant System. 
Introducing World's First Hand Wash System, Stop Infections from hand to hand contacts.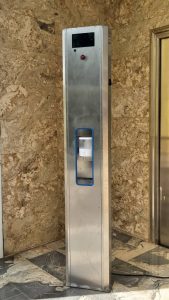 Temperature Hand Sanitizer System helps to avoid hand to hand contact, conserve the amount of sanitizer used and stem infectious disease transmission. Facilities that use automatic hand wash system have lower rates of absenteeism. Schools, offices, and hospitals with automatic, touch-free hand wash system are prepared for upcoming flu season.
Liquid hand disinfectant can reduce the risk of spreading gastrointestinal and respiratory infections between co-workers.
Using Temperature Hand Sanitizer System  provides that much extra comfort and peace of mind to everyone. Discover the key benefits of using these system in your portable unit.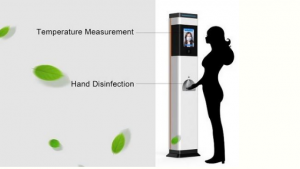 Make your events much more safe with Automatic Temperature Hand Sanitizer System.
People want to spend less time thinking about hygiene, and more time having fun. Using a hand sanitizer system/dispenser at your next event will save on that little extra bit of time. 
When washing your hands, you must touch the faucet, soap dispenser, and hand dryer. This will spread any germs on your hands all over the place. Hand sanitizer dispensers are an easy way for guests to get the cleanliness they deserve in one convenient shot.
According to W.H.O, "Hand disinfectant is one of the best tools available to avoid getting sick and spreading germs."  
Protect your children from germs with Automatic Hand Sanitizer system
We all know kids are major germ factories. Especially when they start spending time around other children. They pass colds and flu around to each other, ultimately getting themselves and their parents sick.
The best way to minimize the likelihood of this situation is to use a hand sanitizer system at your child's next party.
Studies show hand disinfectant can reduce sickness among children by up to 20 percent and kids enjoy using them. Having this fast and easy method will drastically reduce the spread of germs and make the party a little more fun for everyone.
Employees Safety
No matter what industry you are in, cleanliness should be top of mind. Employees want to know when they come to work; they are protected from disease.
Harmful bacteria can live in the most unlikely places and be transferred easily from person to person. Hand disinfectant can reduce the risk of spreading gastrointestinal and respiratory infections between co-workers.
These dispensers system allow for minimal contact with other surfaces,checks temperature and have a stronger bacteria-killing agent than the average hand soap. This is extremely important for workplace safety. No one enjoys taking time off due to sickness. By using a hand disinfectant not only can germs be eliminated, but also the number of sick days your employees will need to use will be reduced.
Working Area: This equipment is suitable for hospital, school, community, factory, enterprise
and institution, supermarket, site, shopping mall, station, airport, bank, hotel, exhibition and other personnel-intensive places.
Automatic Thermometer and Hand Sanitizer System