Products
Stanchion Queue Barrier
Crowd Control Stanchion Queue Barrier Post in Nigeria by HIPHEN SOLUTIONS SERVICES LTD
Stanchions are classically styled crowd control posts, utilizing swag ropes to create a queuing line.
Available in Solid Brass, Stainless Steel and a variety of painted (powder coated finishes).
Our extensive variety of portable posts will enhance any decor for use in Hotels, Banks, Governmental and Non-Governmental Organisations
All posts are factory assembled and include a universal ring that accepts swag ropes from any direction.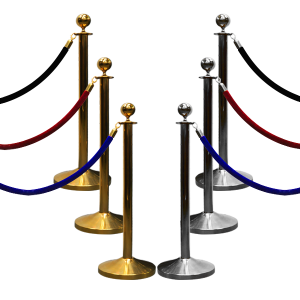 The deluxe chrome plated metal base and pole is ideal for cordoning off an area in style. The pole and base easily screws together for quick and simple assembly. Quality thick velvet rope is available in red, black or blue and is supplied fully assembled with chrome plated end fittings that clip onto the top ring of the pole.
DIMENSIONS:
Height: 1000mm
Base: Ø350mm
Weight: 8kg
Rope: 2000mm long
FEATURES & BENEFITS
High quality thick velvet rope is available in Red, Black or Blue with chrome hooks
Can attach up to 4 ropes to each pole for maximum versatility and function
Sturdy 8kg base keeps it stable
Poles can be placed up to 2000mm apart
Compact for easy storage – base separates from pole
The indoor retractable belt barrier system is easy to set up and forms a quick pedestrian barrier and queue control system. Constructed from high quality stainless steel the stand has a weighted base, and a self-contained retractable belt. The belt can extend any distance up to 2 metres.  Available in blue, red, or black. A sign holder can be attached to the top to inform pedestrians.
DIMENSIONS:
Height: 1000mm
Base: Ø350mm
Weight: 8kg
Rope: 2000mm long
FEATURES & BENEFITS
High quality rigid belts are available in Red, Black or Blue with chrome hooks
Sturdy 8kg base keeps it stable
Poles can be placed up to 2000mm apart
Compact for easy storage – base separates from pole