Products

Solar Water Pumping System
We design, install and maintain durable Solar Water Pumping System. Our backup solution ensures that there is no down-time on your borehole.
Solar Water Pumping System for supply of water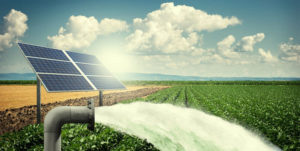 Our solar borehole comes with the following features/benefits:
Easy & low little or no maintenance
High life expectancy
Under- and over-voltage protection
Versatile applications – Agriculture, Livestock, Swimming Pools & Resorts, and Domestic use
Comes ON very early in the morning and remains productive until late evening
Can be sized to meet your water needs
Requires no electricity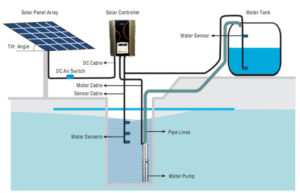 What is a Solar Water Pump?
Solar Water Pumping System, is a pump running on electricity generated from photovoltaic panels or the thermal energy radiated from sunlight instead of grid Electricity or Diesel run water pumps. The cost of operating solar-powered pumps is more economical because of very less operation and maintenance costs. It also has a less environmental impact than pumps powered by an internal combustion engine (ICE). They are used in places where grid electricity is unavailable.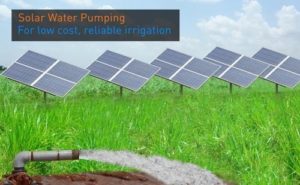 Why Solar Powered Pumps?
Uses energy freely available from Nature
Very Low operational and maintenance cost
Modular and scalable
Reliable and user-friendly system
Performs best during summer
Requires very less supervision
Product Offerings:
AP-PB-3K
Pump with 4000 liters each pumping capacity
Pump with 2000 liters each pumping capacity
AP‐PB‐5K
Pump with 4000 liters each pumping capacity
Pump with 2000 liters each pumping capacity
Product Features:
High efficiency & longer back up time
Intelligent charging ensuring more battery life
Short circuit protection
Over temperature sensing
Auto priority logic to charger from both mains & solar simultaneously.
No load sleep: If the load is less than 10W, the inverter will go to automatic sleep and save power
Separate Liquid crystal display for inverter & MPPT status monitoring.
Solar Energy Meter on LCD
10‐20% more solar energy is harvested by using MPPT solar charger
Solutions for Agriculture, Drip Irrigation, Bore Well, Running River, Sump to Overhead, Water Treatment Plants – STP/ETP, Horticulture, Floriculture, Apartments, Institutions, etc.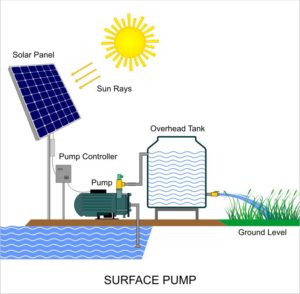 Providing Dependable Solar Water Pumping Solutions Where It's Needed Most.
Solutions available from 1 HP – 20 HP
VFD – variable frequency Drives
Automatic Start and Shutoff
Single phase and Three phase Pumping Solutions
Retrofit Solutions to existing AC pumps
Can take Solar DC input/Grid AC Input/Genset AC Input
Submersible and Surface pumping solutions
Brushless DC pumps
Submersible Pump Head up to 200 meters