Products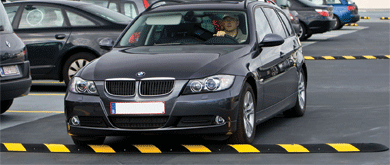 Road Speed Bumps
Road Speed Bumps IN NIGERIA by HIPHEN SOLUTIONS SERVICES LTD
Speed Bumps/Humps prevent speeding in certain road sections that require slow driving speeds, and restrict the entrance of cars to residential areas or school districts.
General Description
Rubber Speed Bump – Middle Section – 1000 x 350 x 70mm
The rubber speed bump segments measure 1000 x 350 x 70mm and are made of strong and durable rubber. They feature fluorescent yellow markings.
Function
The rubber speed bump can be placed on a street or parking lot to clearly and physically separate parking spaces. The speed bump makes the wheel stop or slow on any vehicle passing over it. The speed bump is resistant to the elements, and its yellow markings provide optimal visibility.
Applications
The rubber speed bump can be used in any parking situation where spots need to be outlined for safety, organization and flow purposes. Because of its long life and ability to make the wheel stop, it is a reliable long-term solution for parking issues and safety concerns.
Technical Details
Material:      Rubber
Type: Speed Hump
Section:       Middle Section
Length:        1000 mm
Width:         350 mm
Height:        70 mm
Caps size:350*180*70mm
Color: Yellow & Black
Weight: 17kg per Metre
Packing: two meters in a polybag
Installation holes: 8 for each Mid Section/ 2 for Each End Section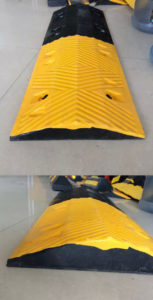 Product Features
Slow down vehicle traffic safely and effectively
Durable rubber construction
Yellow embedded EPDM rubber strips that will not break, crack or fade
High visibility with (8) reflective beads for low light areas
Protect and cover cables with dual channels
Skid resistant surface
Mounting holes for permanent installation on asphalt or concrete
Modular design, place multiple middle sections side by side to span the width of roads, parking lots and more!
Excellent for residential, commercial, industrial areas, parks, sporting venues and hospital/school zones
Great for temporary public events, sporting venues and gatherings
End Sections (sold individually) easily attach to middle section
Quick assembly
Mounting Holes (4) x 1-1/2″D Countersink
1/2″D Mount Hole
Tags:
Rubber Speed Bumps
Rubber Speed Breaker
Rubber Speed Hump
Rubber Speed Ramps
Rubber Speed Hump Suppliers