Products
Reflective Road Studs
Solar Reflective Road Studs IN NIGERIA BY HIPHEN SOLUTIONS SERVICES LTD
In the area of Highway markings, nighttime guidance especially in adverse wet weather becomes more of a necessity, and in this situation use of raised profile reflective Road studs will continue to give that driver guidance when other such markings are often obliterated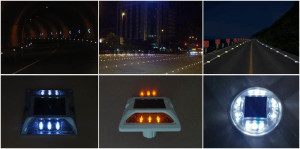 The advantages of solar road stud:
High brightness.
The brightness of ordinary reflective road stud is only 300 MCD to 400 MCD, while the brightness of led solar road stud can be up to 2000 MCD, 6 to 7 times of the former. The high brightness light from the led road stud can penetrate fog at night to guide the driver safely and effectively.
Active emission.
The solar road stud flickers in some frequency at night with strong dynamic warning effect. Active emission of led solar road stud can not only prevent mist interference in the largest extent, but get rid of the dependence of the drivers on car lights with farther and better visual distance.
Features of solar road studs:
Easy installation. Needs no external power and paved circuit, can be firmly installed by epoxy resin glue or screws.
Solar Panel, low power consumption.
Excellent warning effect. All LEDs can perform more soundly in active lighting, high brightness.
In the area of Highway markings, nighttime guidance especially in adverse wet weather becomes more of a necessity, and in this situation use of raised profile reflective Road studs will continue to give that driver guidance when other such markings are often obliterated
Product Description
Capacitor solar road stud
1\with both LED solar and reflector
2\FRP shell make it more anti-pression
3\Super capacitor can use100.000 times without environmental pollution.
Technical specification:
Item Description
Model No.: RSPC-F-1(one way)/ RSPC-F-2(two way)
Size: 105*105*25mm
Weight: 280g
Solar cell Type Mono crystalline
Capacitor Type Super-capacitor
Circle life 100, 000 circle
Working temperature -40C~+80C
LED frequency Blink(1Hz+-20%)or steady
Size |μ5mm
Number 2PCS
Color White, yellow, red, blue, green
Luminous intensity 2000mcd
Control circuits IC
Output on full charge (single-side) 24 hours' blinking lighting and 20hours' constant lighting, no sun input
Time to full charge 6 hours in 100Klux (sunny day)
Compression resistance over 10 Ton
Starting intensity 500 LUX
Application situation Edge line
Life in use 5 year
Warrant 1 year
Material of body shell: FPR
Material of solar panel shell: PC
Material of LED shell: PC
Water proof IP68
View distance: Over 500m
Tags:
Solar Road Studs
Cat Eye Road Studs for Sale
Reflective Road Studs price
Reflective Road Studs suppliers
Plastic road studs highway code
metal road studs
road studs price
road studs types
cat eye road reflector price