Products
Queue Management System
Queue Management System in Nigeria by Hiphen Solutions Manage your queues and enhance customer satisfaction
Queuing is one of the biggest dis-satisfiers in stores, hospitals, banks and government institutions and a structured approach to queuing is being expected by a large number of customers and citizens.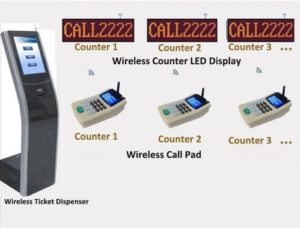 Hiphen Solutions is a supplier of modern queue management systems. Our system puts you in control of your customer's experience. It allows you to define the way your team will handle customers when they visit your branch – any of your branches. It allows your whole organisation to work in harmony – no matter how large or complex it is.
A Queue Management system from Hiphen Solutions helps you organize your queues by providing visitors with virtual and linear queuing solutions, booked appointments or more sophisticated methods like mobile apps and SMS messages.
Some of the major features of our solution are:
A total range of system covering basic queuing system need to sophisticated, multi branch, multi-region enterprise solutions.
Comes with mobile and cloud capabilities.
Fully integrated and modern BI system
Well defined integration gateways with web service connectors
Software and hardware engineered to work together and proved in thousands of installations.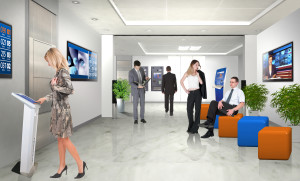 KEY BENEFITS
Manage and minimize queues to improve efficiency and customer experience.
Gather statistics in our BI system to drive operational excellence.
Improve sales and lower your cost.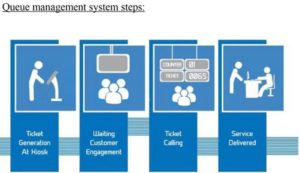 Product Descriptions:
• Business custom(the name of the business can set itself,such as integrated services,cash,etc.).
• Business Unlimited number(according to the actual situation,set up multiple business).
• A window can be dealing with multiple business(can set according to the business priorities).
• Voice custom(according to the requirements,you want to change your voice).

• Custom change print number ticket Settings(such as size,conpany name,display content).
• Each window can be set different call/voice for help.

• Statistical reports,can check/export,queuing information(quantity,average waiting time,time)Number.
• Change/adjust the interface number,the size of the business interface button color reproduction.

• Can use software call,the same as the hardware function,and can be selective call number.

• Terminal software address,name,all in the background.

• Customizable set number 0 time,such as 12:00 00:00 two time settings.

• Machine,Call pad,LED screen,for the wireless connection between each other(without the line installation),can be plugged into electricity.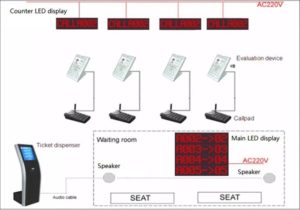 Application:
Widely Popular in Banking,Shopping Mall,Government,and other Public organizations,can play some announcement advertising and latest.Software can be tailor customized for different application and different requirement.
Tags:
queue management system price
queue management system in bank
queue management system Supplier in Nigeria
queue management system in hospital