Products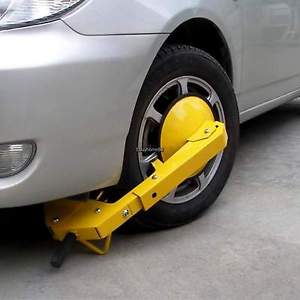 Parking Wheel Lock
Parking Wheel Lock IN NIGERIA by HIPHEN SOLUTIONS SERVICES LTD
If it has wheels, we have the device to lock it down! Hiphen Solutions parking wheel lock in Nigeria.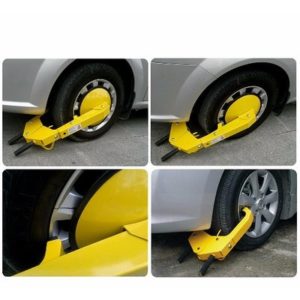 Everything you need to protect your equipment or your toys. Wheel boots, hitch, tire or steering wheel locks, even highly specialized construction equipment immobilization solutions.
Anti Theft Parking Boot Car Tire Claw Wheel Clamp Lock
Wheel clamp, also known as wheel boot, parking boot, or Denver boot, is a device that is designed to prevent vehicles from being moved. In its most common form, it consists of a clamp that surrounds a vehicle wheel, designed to prevent removal of both itself and the wheel. Our wheel locks are universally suitable for boat trailers, caravan, trailers, SUV, etc, ideal for long stay car parks, car sales forecourts.
Main functions:
1. For security purposes, such as preventing a car, trailer, or caravan from being driven or towed away by a thief.
2. To punish unauthorized or illegal parking, in stead of towing the offending vehicle.
3. To preclude escape of a prosecuted person.
4. To prevent driving by a suspended driver or moving of a disabled vehicle.
5. To enforce unpaid fines previously applied to the vehicle.
Application:
1. Widely used in all kinds of small trucks, cars.
2. Widely used in hotels, shopping malls, institutions, schools, factory parking and residential property management and other fields.
3. At the same time on all types of private cars owners parking anti-theft protection play a very good role.
4. Widely used in the parking regulation of public security, traffic police, urban management law enforcement, patrol, customs, road and other departments of road maintenance.
Feature
Adjustable wheel diameter almost fits all vehicle types
Protective rubber wheel clamp tips help prevent damage to tires
Crank operated allows you to adjust to a wide range of tire types and sizes
Resists cutting and sawing and stops the vehicle wheel from rotating
Lock is resistant to drilling and picking
Easy to fit or remove
Specifications
Material: Heavy duty steel
Accommodates tires diameter: 300-900 mm (11.81-35.43 inch)
Accommodates tires width: 280 mm (11.02 inch)