Products
LED Traffic Signs
SOLAR POWERED LED TRAFFIC SIGNS IN NIGERIA by HIPHEN SOLUTIONS SERVICES LTD.
Demanding traffic signal applications require constant reliability 24 hours a day, 365 days a year. Replacing incandescent signals with high-efficiency, long-life LED systems from Hiphen Solutions  facilitates dramatic energy and maintenance cost savings.
Pedestrian Signals
Walk this way. There's no room for error when managing pedestrian traffic or synchronizing the movement of people and automobiles.
Features Up to 90% energy efficiency over Incandescent OEM or retrofit use UV stabilized lens & shell ITE and/or Caltrans compliant designs
Solar LED Road, Traffic Signs" which is next generation is contributing to prevent accidents, improving cognition of roads around situation & judgment ability as deliver clear road information to the driver during night time & bad weather.
Overview Solar LED Road Traffic Sign
View decline of Sign due to topographic, seasonal reason through dew condensation & fog etc.
Function decline of Sign which was hardened due to snow, rain, dust etc. acidification
Falling handle & cognition ability of driver due to frequently changing road situation
Quicken road environment, insufficient correct road information to female & old driver
Due to the nature of the road environment, the difficulty of installation and maintenance
Solar LED Traffic Signs presents as alternative which can solve above mentioned problems.
Main Features of LED traffic signs
Fast Technical Maneuver through Domestic Dominant Technology!
Technology -> Realization of "Surface-emitting within lighting Sign" cell method which has different shape from mini up to large type using even during rainy season & winter regardless of number sunless days through technology of power conversion
Economy -> Big expected effect due to reduce a big portion of economic loss regarding with car accident stand-alone POWER System using solar power
Compatibility -> Simple installation, working & convenient A/S because of having compatibility with pillar where it has been installed
Usage -> Ensuring view of accident place, warming sign before danger road LED traffic signs in environment of night time, fog, yellow dust & etc.
Highly Visible Paddle Faces Feature 3M Retro-Reflective High Intensity Sheeting
Perfect for School Zone, Pedestrian Traffic, Crossing Guards, Flaggers and other events where safety is top of mind
Hand Held Paddle Alternates Bright Flashing Red LED Lights. When Lowered LED's Turn off. – Powered by 3 C-Batteries (not included) Push Button Operation for Ease of Use
Ergonomic Design and made of Durable ABS Plastic
100% Made & Tested in America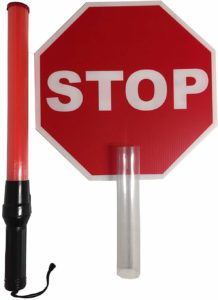 WE CAN INSTALL IN ANYWHERE IN NIGERIA
We are Multi-Award Winning company in Technology Solutions, Access Control, Safety, Security and Automation Systems
Tags:
led traffic sign
led traffic control signs
30″ solar powered flashing led octagon stop sign
solar powered road construction signs
led signs
flashing led signs
led business signs
illuminated traffic signs
traffic message boards