Products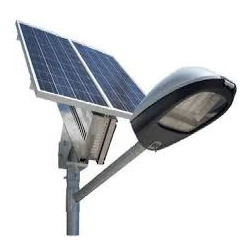 LED Solar Street Light
LED Solar Street Light for commercial quality lighting systems, residential streets, parking lots and security lighting using high quality of solar systems.
The applications for solar powered outdoor lighting systems are endless. These units can be used for: Security and safety lighting, rural area lighting, Dock lights, Park lighting, Parking lot lighting, Parkway lighting, Walkway lighting, Street lighting, Transit Lighting, Outdoor area lighting, Military and civil security and so on. The costs of trenching and installing underground wiring often make a solar street lighting system an economically feasible lower cost option.
Super bright LED: high quality LED lamp bead, high brightness, no flash frequency, high color rendering index, the object under the light is closer to the real color, and the service life is up to 50,000 hours.

Remote control and lighting control: The solar panel automatically turns off the light during the day and automatically lights up at night. You can also use the remote control to force the switch, timing, adjust the brightness, convenient, energy saving, and no pollution.

IP65 waterproof: This solar street light is made of die-cast aluminum, waterproof, anti-aging and long service life. It can be used outdoors and can withstand all kinds of bad weather.

Charging and lighting time: The new generation of polycrystalline silicon solar panels, charging faster, automatic charging during the day, and equipped with a large-capacity safety battery, can be used for about 12-20 hours after full charge, all power comes from solar energy, 0 cost.

Easy to install: no wiring required. Mounted with screws, suspended from a balcony, garden, outdoor wall or mounted on a pole, it can work automatically without maintenance, it has a wider illumination angle, ideal for courtyard lighting, road lighting
Application:
Outdoor wall or pole in Plaza, Park, Garden, Courtyard, Street, Parking Lot, Walkway, Pathway, Campus, Farm, Perimeter Security etc.
Features:
Easy to install, waterproof, no pollution, dustproof and durable, high-temperature resistance and long lifespan
Specifications:
Power of Solar Panel:150W
Solar Street Light Work Time: More than 24 hours after fully charged
Color temperature:6500
Motion Angle: 120 Degrees
Charging Time: 6-8 Hours
Material: ABS/ Aluminum
Working Temperature: -25℃-60℃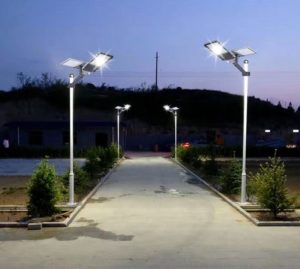 Note:
1:Solar panel should be placed where can receive maximum sunlight directly.
2:The yard is suitable for multiple solar light.
3:Suitable for installation 120in-150in.
4: Solar panel is 150W, the solar light is 300W .
5: One remote control can control multiple solar lights.
Tags:
solar led street signal light system
led solar street light supplier
led solar street light supplier Nigeria
LED Street Light