Products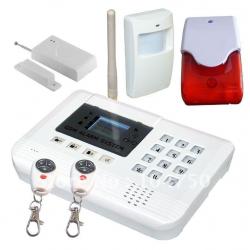 Intruder And Burglar Alarm Security System
Hiphen Solutions provides specially designed burglar alarm systems and services for home and commercial enterprises
Investing in an alarm system is a good option for added home security because it provides proven theft deterrence options as well as peace of mind.
WE CAN INSTALL IN ANYWHERE IN NIGERIA
HIPHEN Intruder and Burglar Alarm combining the best wireless alarm system. All-in-one slim unit can placed on the wall. HIPHEN Intruder and Burglar Alarm is easy for everyone to use. The alarm system come with sensitive touch keypad and vivid backlight LCD display for operation.
HIPHEN Intruder and Burglar Alarm is our newly designed wireless alarm system which is suitable for home, house, shop,warehouse, commercial buildings.
HIPHEN Intruder and Burglar Alarm system has friendly operating interface with advanced and simple configuration. This system with 29 wireless zones, and 8 hardwired zones, can support all kinds of detectors (including PIR, Door/Window Magnetic contact, Smoke, Gas, Water Leak..etc)
Security Alarm Kit
Security Alarm Kit Includes:
1 Unit Advanced Security Panel
The alarm panel built-in Siren, with backup rechargeable battery, last for more than 8 hours, it can support three Arm modes: HOME ARM (STAY ARM), AWAY ARM, Disarm. 30 wireless zones, 8 hardwired zones, preset 5 phone numbers for alarm receiving via voice call or SMS, can record 9 seconds voice message, built-in microphone for voice monitoring, inbuilt anti-tamper switch. It's compatible with Contact ID for central monitoring.
2 Units Keyfob
New design wireless keyfob to let you Away Arm the system, Home Arm the system, Disarm the system, and panic button to trigger panic alarm. The keyfob with slide cover to prevent false alarm. With long-life span battery last for 2 years.
1 unit wireless strobe siren
Wireless strobe siren with colour blue (default) or red. 110db siren and strobe light, work with up to 10 units of wireless alarm panels, can be built-in rechargeable battery (optional).
Accessories
Instruction Manual, Installation adhesive sticker, Screws, EOL Resistors, Hardwired zones connector…etc.

1 Unit Wireless PIR Sensor
The new design wireless PIr motion sensor with true temperature compensation design to avoid false alarm. The PIR motion sensor with detection angle of 110 degree, 12 meters field of view. Inbuilt radio filter to avoid false positives from radio noise and sun light. with anti-tamper switch, powered by long-life battery (included) for 1-2 years. Come with wall mount installation bracket.

1 Unit Magnetic Contact
Wireless magnetic contact works for doors and windows to detect if doors or windows have been opened. Easy to install on door/window frame. With LED to indicate the alarm and low-battery status. Powered by battery (included).
The Alarm System includes features of auto-dialing and auto-SMS (text message) to owner's phone when alarm is triggered. It can pre-recorded voice message and playback on the phone, SMS notification when system is Disarmed/Armed, Home arm/Away arm, door bell, entrance/exit delay, smart zone…etc.
This alarm system is compatible with ADEMCO Contact ID which can enable it connect to Central Monitoring Station.
The HIPHEN Intruder and Burglar Alarm package comes with new design wireless PIR motion sensor , the VS-WH500 with very beautiful and modern design,  also the package comes with beautiful keyfob, this keyfob with slide cover design to prevent false alarm which caused by the keyfob.
Alarm System Technical Information:
GSM Control Panel (host)
Working voltage:100~240VAC
Operating power: 9-15VDC
GSM Frequency:850/900/1800/1900MHZ
Wireless Frequency:433MHZ / 868MHZ
Static current: ≤ 80mA
Alarm current: ≤ 500mA
GSM Cellular Transmission Power: 2W
Operating environment: Temperature: -10℃-50℃; Humidity:<90%
Maximum available quantity of keychain (remote controllers) : 4 PCS
Maximum available quantity of wireless sensors: 116 PCS
Dimension:180*120*50(mm)
GSM Security System Key Features:

Adopt GSM Cellular Network & Telephoneline Network For Alarm Transmission.

With new luxury design of LCD Screen displays Date, Day of the week, Time, and current Armed Status, build-in Touch keypad.

LCD Display Languages: default is English, not selectable (language can be Chinese,German, Spanish, Italian,

Danish…etc [not possible for Russian]).

29 wireless zones (Each zone supports up to 4 sensors) and 2 dedicated zones for remotes (Supports up to 4 remotes or wireless keypads per zone)

8 hardwired zones with EOL(End of Line) protection design (Each zone supports 1 hardwired sensor)

Can dial up to 5 phone numbers in sequence, 5 SMS mobilephone numbers.

Call and SMS both are compatiable with ADEMCO Contact ID.

Arm\ Disarm the system by: Main Host(Keypad), Wireless Keypad, Keychain Remotes, or even remotely by phones and short message (SMS).

Arm/Disarm alarm system with siren (sound & flash) remind

Emergency/Perimeter/Motion zone siren on/off selection, minutes adjustable from 00-59.

Check door\window status automatically (This is when the system is disarmed only, if a door is opened, it will sound fast "bi bi bi")

With emergency button design to summon aid in an emergency.

Support wireless "ding-dong" doorbell function (need to buy extra doorbell from us)

Non-volatile chip, information stored automatically when off power

Record up to a 10 second voice message, When alarm is triggered, it will automatically auto play the voice message over the phone.

Alarm Sounds if Phone Line is Cut (cutting line alarm function)

Work with VS-DVR to record the video clips, when alarm is triggered.

1 Channel Alarm Relay Output: +12V DC, can connect to hardwired siren or strobe siren.

Remembers programming settings when power is disconnected

Available in both AC\DC with Low-voltage Indicators.

Learn sensors to alarm host panel, very easy operation.

Supports Door. Window. Motion. Smoke. Heat. Glass Break. Gas Leak. Carbon Monoxide Detector. etc.

Support ADEMCO Contact ID, can connect to CMS (Central Monitoring Station).

Store 100 alarm records and 100 arm\disarm information.