Products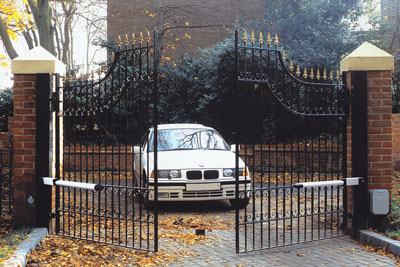 Gate Automation
 
Hiphen Solutions

Automation systems for gates are simple and easy to install. It can be installed on both new and existing gates alike

This top quality sliding gate operator, available in a full range of versions, offers a combination of strength and style. This safe and adaptable operator is ideal for any gate, thanks to the adjustment devices provided (torque in oil bath), which are a distinguishing feature of the undisputed success of its high reliability.

Simplicity and practicality: this new oil-hydraulic piston has been designed and developed in order to meet various market requirements. Only a leading company in the sector can guarantee this type of quality product. It marks a decisive step forward in external oil-hydraulic swinging gate automation.

It comes with an assembly kit, complete with all the necessary accessories.
Original and innovative design.
Easy to install.
Quiet yet powerful at the same time.
Incorporated capacitor.
Manual release with customized key.
Swing Gate
Automation systems for gates are simple and easy to install. It can be installed on both new and existing gates alike. Swing gate openers are designed and built to withstand intensive usage and harsh weather conditions. Nevertheless all operators have elegant aluminum die cast housing with epoxy power finish. The system is designed to have exceptionally wide opening angle. In built safety system reverses the motion of the gate, should it come in contact with a child or a car. It has a battery backup to take care of power cuts and in the case of system failure, it is possible to open and close the gate manually by unlocking the device with the key.
Functions & Features:
Electric soft starting
Auto closed
Stopping on obstacle
Arm light socket
Photocell socket
Vehicle loop detector
Remote control and wire control
Technical Data:
Voltage:220v±10%,110v±10%
Frequency:50/60HZ
Motor voltage:220V/110V
Capacitor:(220V)8μF/450V (110V)30μF/250V
Power:120w
Travel:300nm
Motor speed:1400n/min
Travel speed:18sec
Protection grade:IP44
Working temperature: 25C ~ 75C
Manual release:yes
Gross weight:18kg
Max weight of wing:300kg
Max length of wing:2.5m
Sliding Gate:
Slide gate operators are commonly installed at the end of the gate in the closed position but can also be installed by the end of the gate in the open position. The commonest form of automation is a chain attached across the gate near the bottom and passing through the operator, which shuttles it back and forth. In the end of the gate/open position you do not see the chain or any operating equipment near the gate. Less common method, a metal or plastic rack is attached to the gate with a gear fitted to the operator. The first method is more flexible and allows for greater movement in the gates, the second method makes for a quieter and more secure system. Sliding gates are often large, heavy and therefore more hazardous than swing gates they can however be equipped with appropriate safety devices making them some of the safest gate systems available.
Functions & Features:
The structure of integrated mechanic and electric, without any other controllers
Electronic soft-start
With crashworthy and self-backtrack interfaces
Automatic return for resistance
Photocell socket
Line control
With interface for flashing lamp
Motor Data:
Voltage: 220V±10%, 110V±10%
Frequency: 50/60Hz
Motor voltage: AC 220V/110V, DC 24V
Capacitor: (220V) 8μF/450V, (110V) 30μF/250V (110V)
Power: 145W
Torque: 11.2nm
Motor speed: (220V) 1300±50n/m, (110V) 1600±50n/m
Gear speed: 62rpm
Travel speed: 12.4m/min
Working temperature: -25℃~75℃
Motor making technique: die casting aluminum alloy
Manual Release: yes
Product weight, approx: 8kg
Max, weight of gate: 600kg-4000kg
Electronic Data:
Soft start: YES
Stop on obstacle (sensitivity adjustable): YES
Auto warming-up (at freezing temperature): YES
Remote control: 418MHz (50m, approx)
Wire control: Available
Auto closing: YES
Vehicle loop detector socket: YES
Photocell socket: YES
Alarm light socket: YES