Products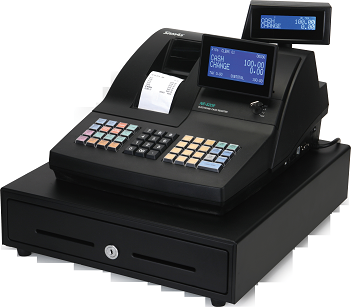 Electronic Cash Register
Hiphen Solutions  has an extensive line of Electronic Cash Register to fit your business needs Perfect for small businesses, fast-food restaurants or fine dining establishments, our reliable, quiet operation systems will help you meet your business goals. Sharp offers two series of cash registers: the ER-A series, purchased from a local dealer who will install/maintain your system, and the XE series, purchased at a local office superstore/warehouse club
Commercial Cash Registers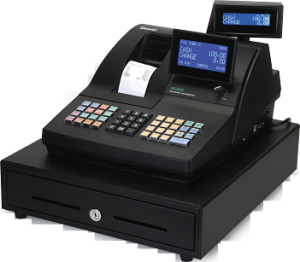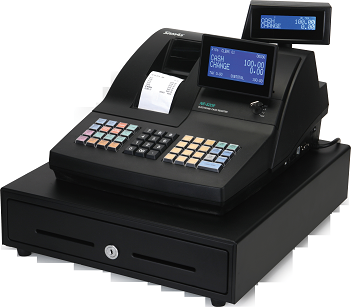 Sharp commercial cash registers are sold exclusively by dealers and are supported by an authorized dealer network.
Sharp point of sale solutions have the tools and features to meet your hospitality or retail needs.
Product description
The Casio SE-S800 cash register features a high-speed thermal printer and clear LCD displays for quick, accurate transactions.
the user- Casio SE-S800 cash register facilitates fast, accurate retail transactions with its high-speed thermal printer, drop/load paper system, and crisp 10-Line LCD operator display. The adjustable front display allows the operator to verify the accuracy of each transaction, while the two-line pop-up rear display lets the customer see the price and sub-total as each item is scanned. The Casio se-800 features 25 Department keys and 3, 000 Plus, so you can easily track sales across multiple categories.
sleek cash register with 58mm thermal printer
customize receipts with a 4-Line header or logo
10-line operator and 2-line rear customer LCD displays for accurate transactions
track sales across multiple categories with 25 physical (200 total) departments
3000 Plus for easy product identification
assign unique IDs for up to 40 clerks
7-position mode lock with Keys for enhanced security
easy drop/load single tape thermal print (58mm)
pop-up 2-line rear customer display
easy tax programming
4 tax rates
keyboard
sd card slot
programmable Logo/post messages on receipts
reports (3 reporting periods)
help programming key
optional PC programming software tool
business owners wanting to combine style with more functionality, The SE-S800 is the unit to Use
The unit features a 10-Line LCD providing the operator a reference for the current transaction that leads to a reduction in errors
the SE-S800 also boasts a 2 x 20 rear pop-up customer Confirmation display with the last item's name, price and the transaction subtotal
there are twenty-five (25) Department keys allowing retailers to track sales for various categories
the SE-S800 Provides 3, 000 plug with up to a 12 character description allowing easy product identification on receipts and reports
the SE-S800 has a 58mm single (1) station thermal printer can be used either as customer receipt printing or as a journal detail
cash drawer (4 bill/5 coin drawer insert)
25 department keys/200 departments; 3, 000 plu's
dimensions: 10.7H x 16W x 16.9″D
stylish cash register with high-speed thermal printer
the Casio SE-S800 cash register is equipped with a 58mm single-station thermal printer, so you can quickly print customer receipts or journal detail. The programmable four-line messages or logo option enables you to customize your receipt header with your business information. Changing the journal paper is simple with the drop-and-load system. The cash drawer has four bill compartments and a five-coin drawer insert.
lcd operator and customer displays for accurate transactions two clear LCD displays of the Casio SE-S800 cash register help reduce potential transaction errors. The 10-Line operator display with adjustable tilt provides an easy-to-read reference for each transaction, while the pop-up two-line rear LCD display shows the customer last item's name and price and transaction subtotal.
3000 Plus and 25 Department keys for tracking sales
this Casio cash register features 25 physical department keys With a total of 200 departments, so retailers can track sales across multiple categories. The 3000 plus, each with up to character description, enable easy identification of products on receipts and journal reports. The Casio SE-S800 cash register offers an easy-to-program tax key setup with four different tax rates and can be used by up to 40 clerks. The seven-position mode lock with Keys offers increased security.
Tags:
electronic cash register price
electronic cash register how to use
functions of electronic cash register
electronic cash register software
pos cash register
casio cash register
electronic cash register Supplier
old cash register