Products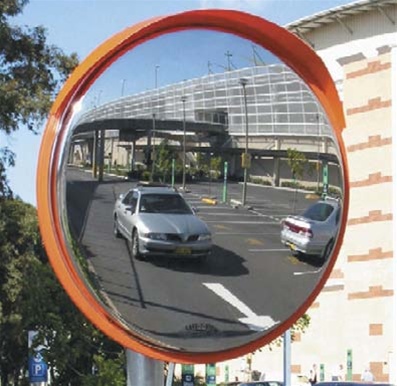 Convex Mirror
 Safety Convex Mirror in Nigeria by HIPHEN SOLUTIONS SERVICES LTD.
The HIPHEN SOLUTIONS Convex Mirror is great for private and commercial use. It's excellent for  indoor and outdoor use, with the durable acrylic mirror able to withstand the harsh weather conditions.
It's simple to install on any roadside pole for instant benefits and security. We have two options with our traffic mirror, the 600mm (Maximum Observation Distance – 6-7metres) and 800mm (9-11 metres) giving you the ideal solution for any viewing problems. Problems with blind spots and difficult junctions will be solved instantly.
Each convex mirror comes with an orange protective collar that protects it from harsh weather, minimising the maintenance required for the mirror
Curved surface gives you the maximum viewing distance possible
Can be angled allowing you to spot vehicles and pedestrians which would otherwise be out of view
If you need to see in 2 different direction when moving out onto a road we recommend that you install 2 convex mirrors
Allows cars to safely pull out onto roads and helps motorists to try and avoid collisions with other vehicles
The Hiphen Solutions' Road Side Convex Mirror is simple to install, with a handy pole connector coming free with every traffic mirror. Simply tighten the bracket around any pole and your mirror is installed!
This convex mirror is useful to minimize the risk of accident that might occur at your workplace. You can also protect your
valuables and detect thieves from stealing by installing convex corner mirrors in hard-to-see places in your warehouse or retail showroom.
Features
Diameter: 450mm

Viewing distance up to: 12m

Wall mount and 60mm Outdoor post included

External grade – Stronger brackets for greater wind tolerance and a visor addition to reduce glare

Crystal clear images with expanded field of view

Long life, impact-resistant acrylic faces

Easy to install

Reliable and adjustable mounting brackets

Inexpensive security solution with no maintenance required

Weatherproof
Tags:
Traffic Safety Convex Mirror
Safety Convex Mirror Suppliers