Products
Accounts Inventory Management Software
Hiphen Solutions Accounts Inventory Management Software (AIMs) is the complete business accounting solution to manage company accounting records and stock in real time. This powerful integrated system is used to evaluate company accounting records in systematic manner.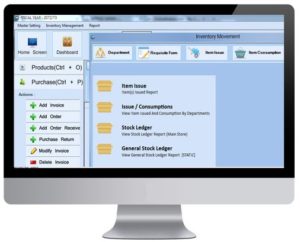 The Accounts Inventory Management Software is an extensive solution to record all the details of sales and purchase of the product, and simply tracks all the expenses or income details of the Company.
Hiphen Solutions will facilitates and manages all the financial records including Stock, Inventory, General ledgers, Billing, Voucher entries, etc with easy management of customer and vendor with accurate management and prompt analysis of your large, complicated financial data in easiest way.
It will be suite for retailers, wholesalers, warehouses, show rooms, departmental store, service consultants, manufacturers, service vendors, lodging places, schools, offices etc.
Product Features
"Software with Ultimately The Best GUI"
DASHBOARD for overall information of inventory
Key board friendly navigation
Complete with two sections;Inventory Management and Accounting
In General, two sections are integrated with each other but could be run independently as well
Unlimited user, group and Company creation facility as perthe duties and responsibilities with full security
Inbuilt Double Entry Book Keeping System
Fiscal Year Ending with exact Balance Carry forward Mechanism
Powerful data search facility
Point Of Sale & Sales return facility
Numbers of reports with Graphical Charts
Reports can be exported to Word, Excel, HTML, PDF format
Bar code scanning facility
Nepali Miti Calendar Included.
Automatic schedule Data Backup and restore facility
Emailing facility to vendor and customers
Can be used as standalone application or in network with multiple PCs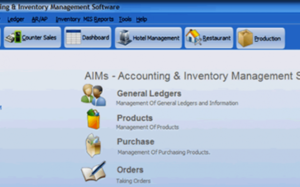 INVENTORY INCLUDES
Management of Products with Category and Sub-category
Periodic schemes and offer management.
Multiple unit conversions available
Searching products according to supplier
Management of purchasing product With Batch Information
Purchase Return and Sales Return Facility
Re-order product from vendors (Purchase Order)
Taking & Placing Orders
Stock Valuation Technique for Product(FIFO & LIFO)
Detailed Stock Ledger for product with multiple categories, sub-categories andbatch information
Periodic Reports For All Inventory Transactions.
Periodic, Monthly and Yearly Graphical presentation for Inventory Transactions
Track inventory on hand and transaction history
Track customers & manage inventory
Analytical reports to view trends of item sales;useful for sales forecast and ordering goods
And much more!
ACCOUNT INCLUDES
Management of general ledgers withaccount groups
Opening balance with exact BalanceCarry forward Mechanism for productand general ledgers
Audit Trails For Tracking User Modificationand Deletion logs Periodically
Complete Receivable Management System with following modules;

Debit / Credit Note
Party ledger and Outstanding(suppliers / Customers)
Balance Sheet, Profit & Loss, Trial Balance
Party Ledgers, Cash / Bank Voucher
Day Book Summary and Journal Voucher
Periodic Cash / Bank collection
Outstanding Report For Customers and Suppliers
Receipt / Payment Register
And much more
Tags:
inventory management software free
simple inventory software free
inventory management software open source
free php inventory management system
open source inventory management software free download
online inventory management system
best inventory management software for small businesses
free inventory management software in excel