Products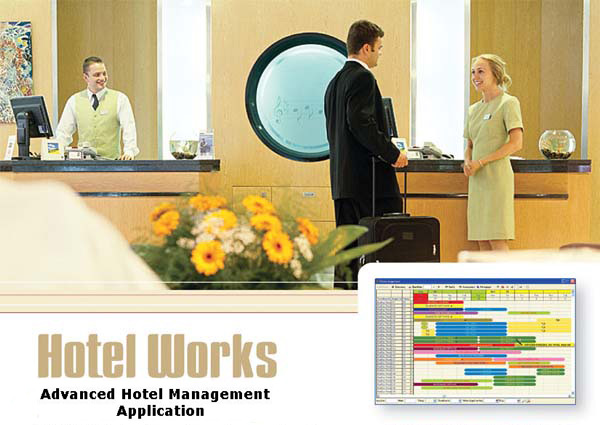 Hotel Management Software
Hiphen Solutions Hotel Management System with powerful features, makes it easy for you to manage your daily operations while improving your overall guest services.
Designed and developed under the guidance of hospitality experts, the hotel management system can accommodate the most stringent operational requirement regardless what type of property you manage. Time is of the essence in the industry, and a good property management system not only saves you time but helps you complete the operations efficiently and increase productivity.
Reservation Management

Guest and Company Profile Management

Best Rate Management

Cancellation / No-Show

Release Reservation Policy

Booking Confirmation

Reservation with Minimum Inputs

Instant Multiple Bookings

Room or Room Type Booking
Event Management

Create custom packages as per your regular events ranging from wedding weekends, receptions to business conferences or any other custom event you want to host at your hotel. You can create complete package covering all the minor or major details going into the event. Create menu cards, invites, set sitting arrangements, themes, equipment to be used and even set the duration of the event. Giving you a complete picture of your resources in use and time, allowing you to plan in advance for other events.

Quotations/Invoices

Send out quotations for the events to the potential guests. You can also create and save pro-forma invoice templates in system, saving you valuable time at the time of need.

House Keeping

Cleanliness reflects the image of a hotel and leaves a long lasting impression on guests. In eZee FrontDesk, housekeeping module gives you complete picture of housekeeping operations. Running an efficient housekeeping team and running operations without hiccups is no easy task but eZee FrontDesk house keeping module does that effectively by displaying real time information.

Housekeeping Manager

Manager will be able to create tasks according to room types and area. Once that is done, the tasks can be assigned to the team individually by a simple drag and drop user interface and even allow to add special comments if any. The task list can be printed and handed out to the team, once completed, the team can return the list and manager can update the task status in the system. In addition, the manager is also able to define the approximate time required for each task with list of items required for each tasks, allowing more efficient time and cost management.

Maid Management

The housekeeping team receives the hard copy of the tasks list which helps them to keep track of tasks and submit it back to the manager once the tasks have been completed. Room number and hotel area is assigned individually to each team member making it straightforward and easy to coordinate.

Payroll Management

The feature rich payroll management will empower you with all the tools for better management of your team and employee related processes. With comprehensive list of functions which cover job profiles, employee records, shift management and much more. The critical functions take cares of financial record of employees' salaries, wages, bonuses, net pay, and deductions.

Employee Management

Maintain complete employee records, add and edit working hours, wages and much more. All of the information can be easily accessed and edited as per the requirement, leaving you worry free. A dedicated feature also lets you quickly define the job profile of the employee for easy management.

Time/Attendance Management

Running an efficient and tight shift schedule in a hotel is a 24 hours job but that doesn't mean you have to pay that much attention. Shift management tools will take care of majority of the processes such as employee login/logout, working hours, breaks, etc. Furthermore, it even takes care of the employee's overtime and leaves updating it automatically in the system according to attendance recorded.

Loan/Advance

Maintain clear records of loan/advance taken by the staff which can be configured to be deducted from the salary. In case of overtime, you can set pay head for adding overtime amount to the salary. You can easily generate payslip as per requests from the system. You also have multiple financial reports related to your team which can be generated at will.

Maintenance Module

Poor maintenance can lead to unhappy guests. The dedicated maintenance module gives you a bird eye view of the hotel's equipment and their maintenance status. The system keeps track of all the equipment, stock of spare parts and maintenance work. Streamlining your hotel's maintenance activities is the best way to reduce overall costs.

Taxes

The system calculates and applies the taxes to the guest folio as per the pre-configured setting. You can set up to 4 different types of taxes depending on the requirement as per your hotel's geographical location. To give you even more control over tax charges, you can either waive of taxes from the final bill amount at the time of check-out. For example, waiving taxes for senior citizens can be done with a single click.

Exclusive/Inclusive Charges

Mobile Application for Instant Hotel Reports

Hiphen Solutions  Mobile App for PMS reports offers a unique opportunity to receive instant summarized reports of reservation and revenue data of your hotel right to your tablet and smart-phone. You can get reports of the current day, period to date and Year to date room revenue as well. Selecting a particular time period for the reports, you can get various reports on your mobile device through Hiphen Solutions

Revenue Summary with Average Daily Rate

The Revenue Report gives you a summary of the hotel's over all revenue.

Occupancy Chart

Giving you flash data of the hotel's overall occupancy.

Room Status Summary

This will give you a snap shot of your property with count of available rooms, sold Room, complementary rooms, expected check-in/out, etc.

Daily Summary Report

Providing you with the data of today, period to date and year to date room revenue, extra charges received, miscellaneous sales and more.

Operational Report

This report gives you the summarized data of the hotel's quarterly performance in terms of Available Rooms, Total Nights Sold etc.