Products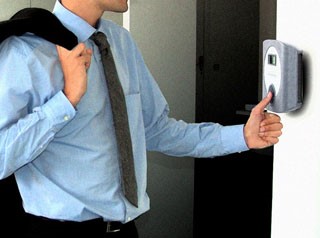 Access Control System
Hiphen Solutions Access Control System.Flexibility is sure.
Access control is a system which enables an authority to control access to areas and resources in a given physical facility or computer-based information system. An access control system, within the field of physical security, is generally seen as the second layer in the security of a physical structure.
Access control is, in reality, an everyday phenomenon. A lock on a car door is essentially a form of access control. A PIN on an ATM system at a bank is another means of access control. Bouncers standing in front of a night club is perhaps a more primitive mode of access control (given the evident lack of information technology involved). The possession of access control is of prime importance when persons seek to secure important, confidential, or sensitive information and equipment.
Item control or electronic key management is an area within (and possibly integrated with) an access control system which concerns the managing of possession and location of small assets or physical (mechanical) keys.
System Operation
When a credential is presented to a reader, the reader sends the credential's information, usually a number, to a control panel, a highly reliable processor. The control panel compares the credential's number to an access control list, grants or denies the presented request, and sends a transaction log to a database. When access is denied based on the access control list, the door remains locked. If there is a match between the credential and the access control list, the control panel operates a relay that in turn unlocks the door. The control panel also ignores a door open signal to prevent an alarm. Often the reader provides feedback, such as a flashing red LED for an access denied and a flashing green LED for an access granted.
The above description illustrates a single factor transaction. Credentials can be passed around, thus subverting the access control list. For example, Alice has access rights to the server room but Bob does not. Alice either gives Bob her credential or Bob takes it; he now has access to the server room. To prevent this, two-factor authentication can be used. In a two factor transaction, the presented credential and a second factor are needed for access to be granted; another factor can be a PIN, a second credential, operator intervention, or a biometric input.